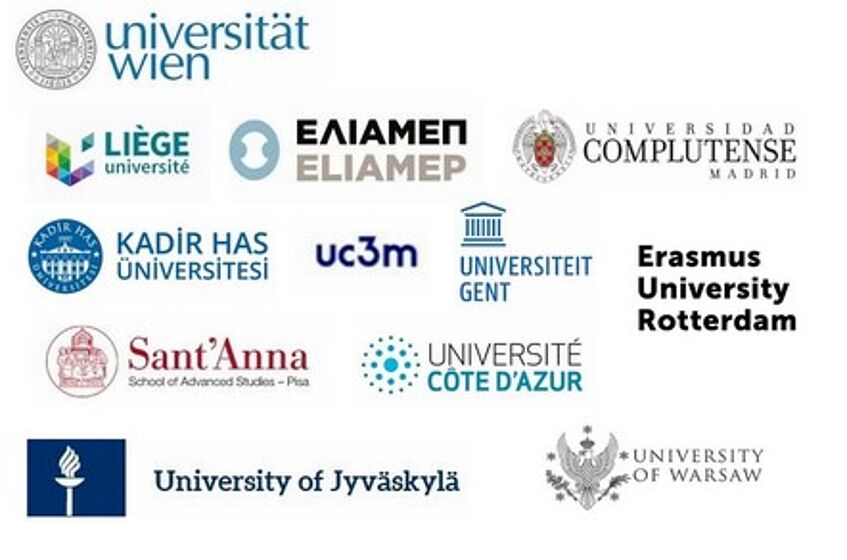 Consortium
ULIEGE: The research centre involved is the Center for International Relations Studies (CEFIR). CEFIR has a team witha high international profile, and it develops scientific knowledge regarding international and regional cultural and audiovisual governance, European cultural policy, and international political economy, from both political and interdisciplinary perspectives. Dr Antonios Vlassis' research and teaching fields deal with governance of online platforms, global audiovisual politics, as well as EU cultural and media policies. His scientific contributions have appeared in top-tier journals in Media studies, Political science and in Cultural policy studies. In 2020, he co-edited (with M. Rioux and D. Tchéhouali) La culture à l'ère du numérique: plateformes, normes et politiques.
ELIAMEP: Established in Athens, Greece, in 1988, the Hellenic Foundation for European and Foreign Policy is a private, independent, and non-profit institution whose mission is to conduct policy-oriented research and provide policymakers and academics with its expertise over international relations; EU institutions and policies; democracy, human rights and civic participation; good governance; cultural diversity; and digitalization. Dr Evangelia Psychogiopoulou, senior research fellow at ELIAMEP and legal counsellor for the Hellenic Ministry of Culture and Sports, has worked extensively in the areas of EU cultural regulation, EU cultural policy and cultural mainstreaming, digital media and digital technology in the EU. She has conducted research for the EU institutions, and she has participated in several EU-funded collaborative research projects. She has shown exceptional leadership skills in coordinating the EU-funded MEDIADEM project ('European media policies revisited: Valuing and reclaiming free and independent media in contemporary democratic systems', FP7 project, GA no FP7-SSH-2009- A-244365, 2010-2013) and the study 'Collecting societies and cultural diversity in the music sector', tendered by the European Parliament (2009).
UCM: Universidad Complutense de Madrid is the second Spanish university (92nd in the world) for its employability and the third for its academic reputation (94th in the world). In 2022, the Complutense University of Madrid is ranked 223rd in the annual QS World University Ranking. Dr. Fernando Ramos Arenas is Associate Professor of European Cinema History at the Department of Art History at UCM, where he is also Key Staff Member of the Jean Monnet Chair Modern Times. He has been a Marie Curie fellow; his research is on Media History, Cultural History and Sociology of Art and Culture. He has published two monographs on film authorship and cinephilia (2011 and 2021), edited three volumes (2014, 2015 and 2021) and written 24 articles in leading research journals as well as 21 book chapters in international publishing houses like Berghahn New York, Springer VS or Peter Lang.
KHAS: Kadir Has University is a research university based in Istanbul, Turkey, which has six faculties. The aim is to produce both high-quality research and students with competencies at the highest level by developing a new, application-oriented education model. This was founded in 2019 and serves as a new education model that is completely original and aims to educate graduates who shape and direct the future world by breaking down traditional university models. Melis Behlil is Associate Professor and Chair of Radio, Television and Cinema Department at Kadir Has University. She has published on media industries and contemporary Turkish cinema.
EUR: Over the past years, several scholars of Erasmus University Rotterdam have proven successful in attracting ERC Grants. Dr Mafalda Dâmaso, Lecturer in Cultural Industries and Policy at Erasmus University Rotterdam and subject expert with the Canada Council for the Arts and the Latvian Council of Science, has worked extensively in the areas of cultural policy and cultural diplomacy/relations in the EU, both in academia and beyond. Recently, she was a 2019–2021 Research Fellow with the Centre on Public Diplomacy of the University of Southern California and the lead researcher on a project with Culture Action Europe about the European status of artists for the European Parliament. Among other roles, she also worked as an expert for the Joint Research Centre of the European Commission and for the German Institute of Foreign Cultural Relations.
UGENT: Daniel Biltereyst is Professor in Film and Media Studies at the Department of Communication Studies, Ghent University. Besides being Director of the Centre for Cinema and Media Studies (CIMS) and an elected member of the Academia Europaea, he is also linked to the HoMER network. He is the main supervisor of the Hercules/FWO-funded Cinema Ecosystem project, aiming at building an open access data platform for cinema history in Flanders and Belgium (2018-24). He is a co-supervisor of the H2020 EUMEPLAT project (European Media Platforms), more precisely leading the WP on the history of the European movie market. He is also the co-supervisor of the EU-funded cinema heritage project 'Dialogue for Cinema as Cultural Heritage in Adana'.
UC3M: UC3M is considered one of the most renowned universities in Spain. The Diversidad Audiovisual/Audiovisual Diversity group, of which L. Albornoz and T. Garcia Leiva are the main researchers, is based at the Department of Communication of UC3M. Established in the early 2010s, it is dedicated to the study of the issue of diversity in the functioning of cultural industries. An international perspective, nourished by a network of researchers in Europe and Latin America, and the focus on technological innovation and the elaboration of sectoral policies and strategies, place the group at the forefront in the investigation of the transformations that the audiovisual sector undergoes.
SSSA: In REBOOT, Sant'Anna is represented by International and Comparative Law Research Lab of the DIRPOLIS Institute and by the Institute of Economics. LIDER-Lab pursues research in the field of law and new technologies, with a strong expertise on intellectual property, privacy, fundamental rights protection, cultural rights, family law and children's rights. The SSSA team and WP6 leader, Caterina Sganga (Associate Professor of Comparative Private Law), coordinates the H2020 project recreating Europe (Rethinking digital copyright law for a culturally diverse, accessible, creative Europe, 2020-2022), on the results of which REBOOT builds several of its WP3 and WP6 activities. The Institute of Economics carries out research in the field of empirical and theoretical economics, with a special focus on economics of innovation and technological change. In REBOOT the two SSSA Institutes will bring in their intertwined competence in the field of intellectual property, fundamental and digital rights, cultural rights, rights of minors, econometrics, and economics of innovation.
UCA: It was created on 25 July 2019 from the fusion of the University of Nice Sophia-Antipolis created in 1965 and the Communauté d'Universités et d'Etablissements Université Côte d'Azur created in 2015 as one of France's top 10 researchintensive universities. It has about 35,000 students and there are over 100 nationalities represented. Université Côte d'Azur won the prestigious Initiative d'Excellence (Idex) label in 2016 by the French government. It is renowned for its close relationship with the creative sector and its innovative cutting edge technological and artistic track record of research and practice.
JYU: The University of Jyväskylä has a high international standing as a research university and an expert in education with a strong emphasis on human sciences. Dr. Tuuli Lähdesmäki, Associate Professor (tenure track) in Art History at the JYU and Adjunct Professor in Area and Cultural Studies at the University of Helsinki, is an expert in EU cultural, cultural heritage, and diversity policies, identity studies, and critical cultural studies. She has successfully received extremely competitive external research funding to explore these topics, altogether over €4.3M, from the Academy of Finland and the European Commission (including HORIZON2020 and ERC). JYU's research team includes Dr. Kaisa Hiltunen who is a Senior Researcher in Art Education and an established scholar in film studies.
UW: The team of the University of Warsaw consists of researchers from the Department of Media Systems, Faculty of Journalism, Information and Book Studies. The Polish team will contribute to the project through knowledge on film systems with a focus on media-political relations, film systems in Central and Eastern Europe, European and national media policies, public service media, creative cultures, and high-technologies; experience in conducting qualitative and quantitative research, fieldwork diaries, visual analysis, and comparative studies.